Boston Garage Door Installation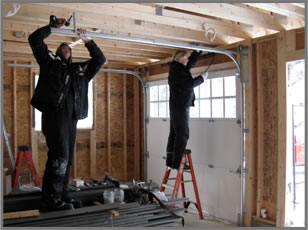 Here at Boston Garage Door Service, we know how much a new top-quality garage door affects the general appearance and value of your home. Truly, there are as many kinds of garage doors as there are homes in Boston!

We provide countless affordable choices in garage door combinations. We're here to guide you to come upon the perfect balance between price, reliability, and looks. Our recommended examples:
wood garage doors A wooden garage door comes pre-fabricated, or we'll customize one for you. Particularly if you prefer a classic-looking home, we suggest wood.
steel garage doors With a double coat of baked-on polyester paint, a garage door of steel has a smooth finish with a traditional look. Available in classic raised panels or contemporary long panels. As the most durable and affordable garage door, steel is favored by folks who want optimal home security.
composite garage doors If you prefer an environmentally friendly garage door, select composite materials. Made from 80% recycled wood and resin, it appears to be real wood, yet it's as solid as steel.
CALL US NOW! (617) 987-9220 A mobile garage door expert will bring what you need in no time!
We'll go over all your questions and explain the pros and cons of all your choices. We'll gladly help you decide what's just right for you and your Boston, Massachusetts property. Whenever you need to purchase a new excellent-quality garage door, Boston Garage Door Service offers the professionals you require when it comes down to the best in garage door installation and repair. Unquestionably, Boston Garage Door Service offers exceptional quality and the most affordable garage door installation services in Boston, MA.
CALL DAY OR NIGHT! (617) 987-9220