Boston Garage Door Spring Repair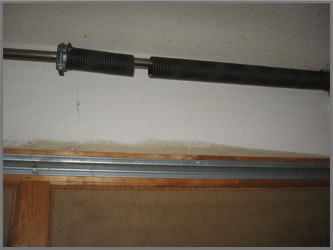 Please, don't ever attempt to repair your own garage door spring, unless you're an engineer! A garage door spring packs pressure, so it can actually go directly through a wall! The safe repair of a garage door spring calls for our specialized equipment and skills here at Boston Garage Door Service. Our highly qualified technicians use advanced technology and skill to do the work properly and safely. Let the professionals at Boston Garage Door Service take care of it all for you!

When your garage door goes on the fritz, it's often because you need garage door spring repair. Hire Boston Garage Door Service, and we'll determine the best solution for you.
CALL NOW! (617) 987-9220 We'll arrive to help you in short order!
Staying up to date garage door industry technologies, we offer the largest range of reputable products in Boston, Massachusetts. All our garage door springs are coated with a clean, black protective finish to prevent corrosion. Here are several we recommend:
torsion springs Torsion springs are manufactured with oil-tempered wire to avert additional corrosion.
extension springs Double-looped, open-looped, and with clipped ends, they are oil-tempered for maximum strength.
roll-up door springs For roll-up garage doors, our roll-up spring is superior, making minimal noise. Hard-drawn and oil-tempered to be long-lasting.
All Boston Garage Door Service garage door spring installations come with our top warranty. You can fully rely upon our excellent-quality service. We'll always make sure you're totally satisfied. And, with our 24-hour call-back policy, we'll return immediately if anything else requires attention.
CALL ANYTIME DAY OR NIGHT! (617) 987-9220